Team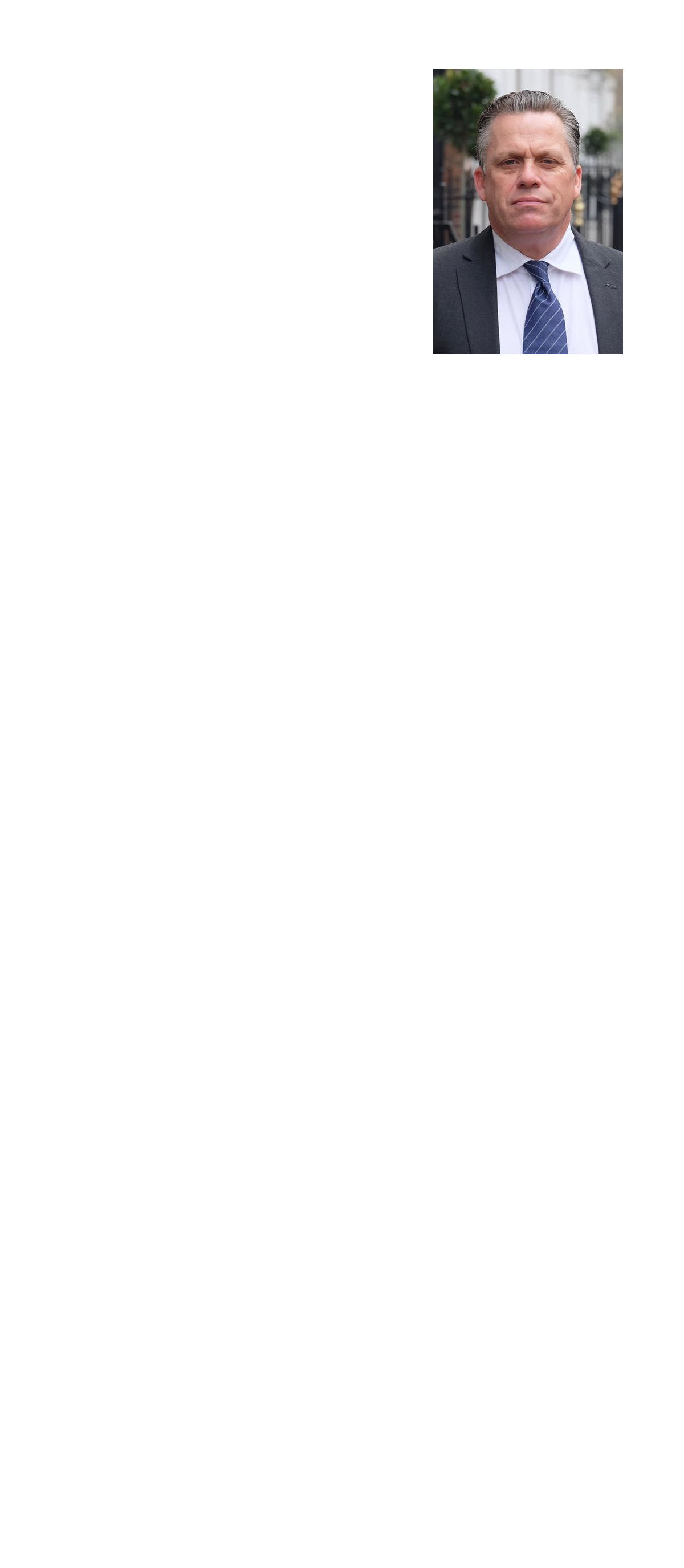 Glen Henry // Consultant Solicitor
Glen Henry // Consultant Solicitor
Glen is Solicitor Advocate and has 25 years experience in dealing with serious and complex criminal cases. For the last 10 years Glen has been a Partner/ Director with a niche central London fraud practice, after moving from Hodge Jones and Allen in 2009 where he was also a Partner for seven years. 
A Solicitor Advocate since 2008 sees Glen regularly appearing in the Crown Court as well as appearing in the Magistrates Court on a range of cases including Proceeds of Crime enforcement.  
Glen specialises in Fraud and Business crime and deals with the SFO, HMRC, NHS Counter Fraud and the CPS on complex financial and tax investigations and prosecutions and notably acted for Tom Hayes in the first Libor Trial. Glen also challenges HMRC decisions to deny VAT Input Tax by way of Reviews and Appeals to the Tribunal. More recently, Glen has successfully defended NHS Consultants charged with Fraud and Nurses charged with Patient Neglect/ Ill Treatment.
Glen also routinely deals with Proceeds of Crime Act 2002 matters including Restraint Order issues, Cash Forfeiture and Confiscation Orders.
Glen has a combative yet compassionate approach and prides himself in providing exceptional client care and guidance to achieve the best possible outcome in every case. 
PERSONAL CONDUCT OF NOTABLE CASES.
Trader and Company Fraud 
SFO v Tom Hayes – The LIBOR case.  Representation of Mr Hayes in the first and main LIBOR prosecution brought by the SFO. The case was extremely complex and involving a conspiracy to manipulate the interbank lending rate used as a benchmark for hundreds of trillions of dollars with employees of numerous banks and inter-dealer brokers.  A jury found him guilty of dishonestly agreeing to make submissions of rates by panel banks which were false or misleading.  That wrongdoing took place from 8 August 2006 to 7 September 2010 when Mr. Hayes worked at UBS Securities Japan and then at Citigroup Global Markets Japan dealing with yen Libor. Mr. Hayes received a lengthy custodial sentence (which was successfully Appealed) and faced complex POCA proceedings.R v Larkin – £1 million Corruption and Bribery fraud. Defended one of three Directors charged with conspiracy and the only Director acquitted. Glen was instructed Instructed as "junior" Counsel in his capacity as Solicitor Advocate. 
R v Freeman – Defended £14 million PONZI/ investment fund fraud – involving Liquidator/Official Receiver, FSA, Director Disqualification, Bankruptcy and FSMA offences. Related Confiscation Proceedings and Money Laundering. Continuing to act in Enforcement proceedings which are ongoing.
R v Barclay and Barclay – An ongoing matter involving a couple being investigated for theft of substantial sums arising from Abuse of their management positions.
R v Gilbert – A £3 million fraud involving counterfeit Viagra tablets sold via internet. The case involves on-going complicated POCA Enforcement proceedings and applications for the public to be excluded from hearings. 
SFO v Hughes – Defended £100 million Boiler Room/ Share Fraud/ US OTC/ Money Laundering with 6 other defendants.
R v Spagnolli– Large scale investment/ advance fee fraud involving a multi- million pound loss to hundreds of investors. 
R V Muldoon – Defended advance fee fraud £5.7 million. Related Confiscation POCA proceedings. 
R v Katcharian – Defended £19 million Confiscation proceedings involving fraud and Money laundering charges. 
R v Leech – Acting for an Accountant charged with theft of ¼ million of pounds from his employer.
R v Dionysiou – Acting for an Estate agent suspected of large scale fraud on a Local Authority. 
R v Boota  – Acting for a Company Director concerning overcharging by fraud of  £3/4 million in the building industry.  
R v Ratcliffe – Accountant charged with theft of hundreds of thousands of pounds from employer. 
R v Lyons – Fraud committed jointly by Solicitors and Estate Agents acting in clear breach of professional conduct rules.   
R v Guy – Defended retired accountant and Acquitted of Money Laundering in Spain. Acted as Solicitor – Advocate. 
R V Roberts – Defended £1.2 million mortgage fraud and unauthorized transaction fraud. Related RO and Confiscation and Enforcement Proceedings. 
R v Chaudhury – Defending and Supervising a BIS prosecution of Company Directors involving sales at undervalues. 
R v Chahal – Supervision of Mtic fraud – £100 million.
R v Kostap – Conspiracy to cheat the clearing banks and money launder proceeds of over £100 million (an early internet "Phising" Fraud). Confiscation Order argued in the region of £17,000. 
R v Abbas – Conspiracy to defraud Motor Insurance Companies involving over £1million loss. One of the original " crash for cash" cases. 
 R v Tailor– £100 million MTIC fraud – Involving 6 company directors/secretaries and related money laundering charges. 
HMRC Tax Prosecutions, Reviews and Appeals
HMRC VAT Reviews and Appeals– Acting on various ongoing HMRC VAT investigations and disputes including the denial of substantial amounts of VAT Input Reviews and Appeals concerning the metal recycling industry. 
HMRC V Harrison – Defending HMRC allegations of £1 million tax evasion (Income and Capital Gains) arising from Directorships with several companies. 
HMRC v Elamin – A large scale importation and evasion of excise £ ½ million duty involving an on-going 2 year investigation by HMRC. The case also involves contested and on-going Cash Forfeiture proceedings.
R v Harber – Defended HMRC prosecution concerning large scale evasion of duty on cigarette importations. 
HMRC  v Cook – £100 million Evasion of Excise Duty and related money laundering charges. 
R v Druce – Contested £400,000 Cash Forfeiture and Detention application brought by HMRC. The underlying wrongdoing was said to be evasion of Income Tax and Capital Gains Tax.  
R v Norton – Defence of Company Director charged with £3/4 million VAT and False Accounting Fraud. 
NHS and Patient Care
R v Klusmann  – A complex NHS fraud alleged to have been committed by a Consultants method of working for both the NHS and private sector and the potential conflict of interests that can arise as a result of such common working practices. The Consultant was acquitted following a lengthy Trial. 
R v Valencia – Acting for a senior nurse at a BUPA Care Home charged with Patient Neglect. Acquitted at Woolwich Crown. Acting as Solicitor Advocate alone. 
R v Smith, Gurung & Maya Gurung  – Acting for three nurses who were jointly investigated for patient neglect/ill treatment. The Police investigations into each were discontinued following my representations.   
Other 
Trading Standards V Badat – a prosecution involving the sale of counterfeit high value/ branded products via Instagram. 
R v Al-Sanusi – Acted for a high profile and politically sensitive client being a nephew of Colonel Gadaffi and who was criminally charged. The case involved the travel by Defence Counsel to Libya and meetings with government officials in the UK. The case resulted in acquittal on all criminal charges.   
A first rate firm with renowned prowess in the field of fraud and commercial crime. It is their experience over many years that make them the go-to firm to clients needing top advice and direction in this very specialised area
Shearman Bowen are one of the best crime and fraud firms in London and the country
Really accessible, professional, close relationships with their clients
"Boutique law firm providing high quality business crime representation"
Legal 500 (financial crime) 2021
"Outstanding knowledge, judgement and expertise"
Legal 500 (general crime) 2021
"Shearman Bowen & Co is an excellent law firm who are dedicated to all the clients they represent"
legal 500 (general crime) 2021
"They are very dedicated and have excellent judgement"
Chambers and partners (financial crime) 2021
"They can make tactical decisions before a case is even prosecuted, have an awareness of the POCA regime and how it works"
Chambers and partners 2021